Today we are going to show you how easy it is to set up an augmented reality encounter for any tabletop RPG of your choice.  
Watch the video below, or follow the instructions as written in this article
Download Ardent Roleplay desktop & mobile Apps
The first thing you'll need is access to the Creation Kit on your desktop, you can find downloads for Mac and PC just below, or at ardentroleplay.com/creationkit.
You will also need to have downloaded the Ardent Roleplay mobile app on your smartphone or tablet.
Open the Creation Kit & create your first Campaign
Now that you're all set up, let's create your first AR encounter in Ardent Roleplay's Creation Kit desktop app!
Once you have logged in to the GM creation kit, you'll come to this screen.

It's worth noting that there are pre-made campaigns and adventures you can access from this screen.
For now though, we are going to click on 'Create New Campaign'.

Here we can enter our campaign name and a brief description.

For now let's just call it 'My First Campaign'. Make sure you save the changes. 
Create a new AR encounter
Next we want to create our first new encounter.
In Ardent Roleplay, encounters are essentially the individual AR models you choose to present to your players during a game.
Later, we will assign these encounters to cards for players to scan.
Click on the 'Encounters' button from the main menu…

Then click 'Create New Encounter'.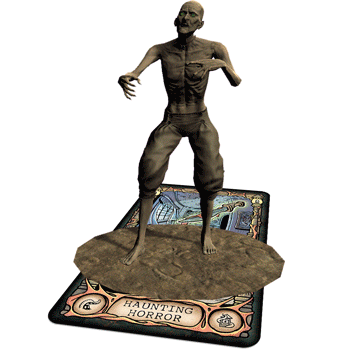 From here, you see a list of available content packs you can choose from. 
To preview what assets are in these packs you can look through our content catalog on our website or through the store in the mobile app.
For now let's just use the High Fantasy Core Pack which is 100% FREE.  When you click on this pack option you will see a list of available models open up on the right side of the screen…
For this encounter lets select the 'Rural Hut'.
Customise your encounter with states
This screen is where you can customise elements within your encounter (within the model you have just chosen).
These customised scenarios are presented as different States that you can send to your players anytime during a game.
Towards the top of the screen you will see some categories you can use to organise your states.
These are Approach, View, Reveal, Resolve. (It is completely optional to organise your states in this way)
Follow the steps below to create 7 states within this Rural Hut Encounter.
Allocate a card to your encounter (preparing a Session)
Now we have created and customised our encounter, we want to allocate a card to it that players will scan with their phones to see the AR model during a game. We do this in the Creation Kit when we prepare a Session.

Go to 'Sessions' on the left hand menu


And let's 'Create New Session'


Here we come to the Edit Session screen below. At the top in the blue section, we have our session information – a title and description that we can edit. Let's name this Session 'My First Session'. 

On the right hand side we have a list of encounters you've created in this Campaign so far. We can see the rural hut encounter we just created.
To add this encounter to this session we want to click on 'Rural Hut' from the list to allocate an encounter card to it.

Here we have a list of card suits you can choose from. We are going to use the 'Free High Fantasy Print and Play' suit.
Let's choose the 'Hideout' card (click on the card image to select).

You can now see the Rural hut encounter sits within our session and has been allocated the Hideout card.
Click 'Save'.

You have now created your first encounter, session and campaign in Ardent Roleplay.

Make sure you have saved your session and closed the Creation Kit.

Congratulations, you've created your first AR Encounter in Ardent Roleplay!
So how do you host this AR encounter in the Ardent Roleplay mobile app?
Let's quickly take you through it.
Log in and load your Campaign & Session
Once you are logged into the mobile app, make sure you are toggled as GM.
You will want to load in the campaign and session you just created in the Creation Kit. 


Press this icon
⇨  'Change' Campaign
⇨ Select 'My First Campaign' ⇨ 'Continue'
⇨ Check correct campaign & session are now selected
⇨ Press back icon (to main menu)
⇨ Then press 'Host'.

Game Master Control Panel
After you press 'Host' you will be taken to the GM control panel which you will use to send states to your players during a game session.

On the left you can see your Rural Hut encounter and any other encounters you may have added to this session.

In the middle, all the states we just created for the Rural Hut.
In the bottom right corner you can see what card you have assigned to each encounter (press to enlarge card image).

To get players to join this campaign, go to the burger menu in the top left corner to find your Campaign Code.
Send your players the Campaign Code so they can use it to join your campaign.

Once they have joined, players will show up in the player list on the right side of the screen.
Sending States to Players
To send a state to a player, we simply select the state we want to send and then select which players we want to show it to. If you want all players to see it, press the 'Send to All' button.

Your players will see the changes in real time while they are scanning the encounter card.
Further information & guidance
Ardent Roleplay offers further functions and features as well as hundreds of models that a GM can utilise within a game. That's something we can explore another time. 
If you have any further questions, feel free to join our Discord and/or join one of our live demos.