Augmented Reality technology has been shaking up tonnes of industries across the world for around a decade now, from archeology to commerce – but obviously what we care about most are the games. AR games are unique in the video game world: typically encouraging players to move around or go outside rather than sitting on the couch. The inception of mobile-based AR games in the early 2010s furthered this, and now we live in a world where packs of people waving their phones around in a park isn't weird anymore. So what games are out there? Let's dive in and check them out!
Ingress Prime
The progenitor of the AR mobile game genre, Ingress, had a big revamp and rebrand in 2018 and became Ingress Prime. The game, developed and published by augmented reality giant Niantic, defined many of the mechanics we see across the AR genre today. Using their phone's GPS, players travel to "portals", which are lain over real-world landmarks using AR, and interact with them to discover in-game rewards and story elements.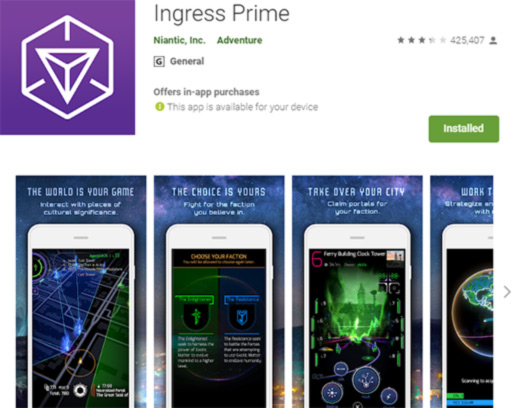 Pokémon GO
This is the one that blew it all up. Using the original Ingress as a database, Niantic worked alongside Nintendo and The Pokémon Company to release a game that takes the real-world interaction of Ingress and adds all the monster-collecting fun of Pokémon. This was the game that popularised the location-based AR genre, with more than 500 million downloads in the year of its release. It's only grown bigger since, with Niantic providing regular updates and huge events alongside a great new-player experience to draw in players. And there's an AR photo mode, where you can take photos with your favourite Pokémon!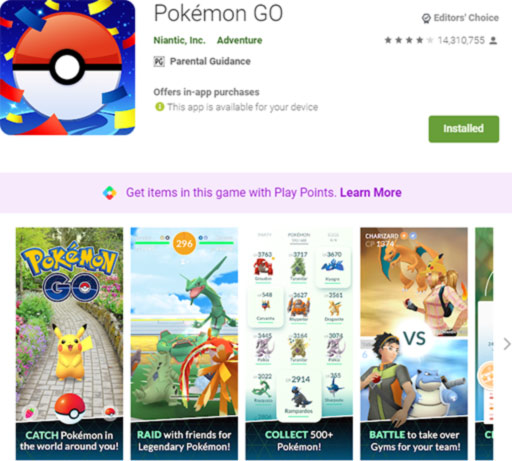 Harry Potter: Wizards Unite
To be completely honest, Niantic's third game doesn't offer much that Ingress Prime and Pokémon GO don't already have to give. The Harry Potter theme provides some unique mechanics, with players choosing a wand and a profession upon character creation which provide different effects, and distinct buildings like Inns, Greenhouses, and Fortresses providing unique benefits. If you're a bigger fan of the Wizarding World than Pokémon, this is the game for you.
Catan: World Explorers
The fourth release from Niantic, this time in partnership with leading board game publisher Asmodee, follows their established formula of real-world interaction between teams of players centred around landmarks. The gimmick this time comes from Settlers of Catan, where players collect resources from the landscape, then turn those resources into buildings in order to score points. Points contribute to the teams' global ranking and earn players in-game rewards. It's basically a world-wide game of Catan, so if that sounds like your jam, give it a go!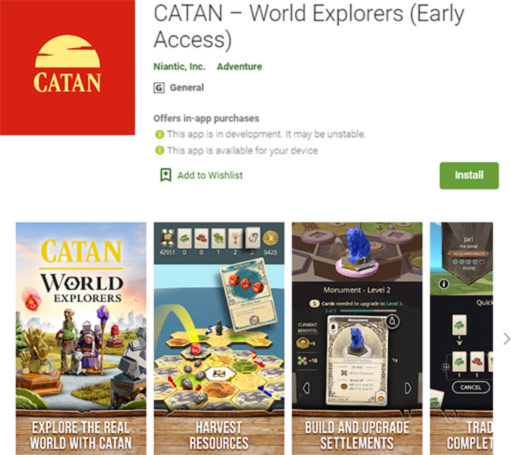 Niantic-likes
With the massive success of Pokémon GO and Niantic's other ventures, developers around the world have jumped on the location-based AR bandwagon. That's not a bad thing! Heaps of fun IPs have come out with games in the genre, embracing everything that makes it great. Jurassic World Alive, Ghostbusters World, and The Walking Dead: Our World lead the charge to diversify the space, each with their own unique mechanics informed by their source material to provide the hook for new players. If you're interested in other developers' takes on Niantic's formula, have a look at these newer games.
Five Nights at Freddy's AR: Special Delivery
The sensational horror franchise from Illumix, Inc. continues in a unique game for the AR space. Players use their mobile devices to confront terrifying malfunctioning animatronics that have made their way into players' own houses. Survival horror is a new way to utilise AR technology – how better to give players a jump scare than to actually have a monster show up when they turn around? Now be warned: Five Nights at Freddy's is a franchise aimed at the 12+ demographic, so if you're after a more adult horror experience you'll need to wait a bit longer for a developer to come out with one.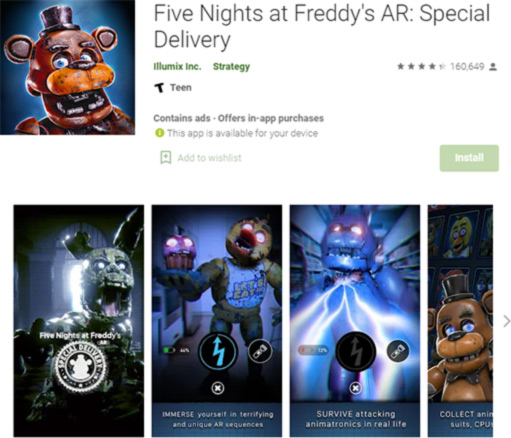 Ardent Roleplay
Tabletop role-playing games have been taking the world by storm in the last few years, with Dungeons & Dragons becoming a household name thanks to shows like Stranger Things and Critical Role. Ardent Roleplay takes D&D to the next level using augmented reality technology: using a smart device as a viewing lens, players and Dungeon Masters can set up and explore fantastical terrain, customize and manage their characters, and discover hidden secrets all in three Unity-powered dimensions. No matter whether you're a D&D casual or fanatic, Ardent is a huge way to level up your game.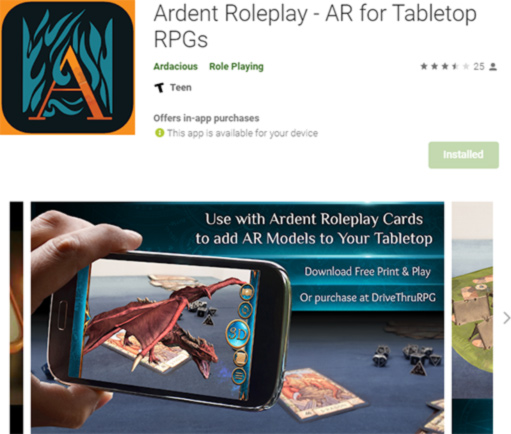 And More!
There's more and more AR games entering the market every year, from the Niantic-like options using popular IPs to more unique games really experimenting with the technology. Whether you're a fan of a big franchise or looking for something new and different, there's undoubtedly an AR game for you.
Ardent Roleplay is the first augmented reality app for tabletop roleplaying games, Ardent Roleplay brings virtual scenery, creature, character and prop models to your face-to-face and online games. Show each player what their character sees to deepen immersion and stop the metagaming!
Want to play a game? Click here to see find our about our Player subscriptions.
Want to run a game? Click here to see find our about our GM subscriptions.